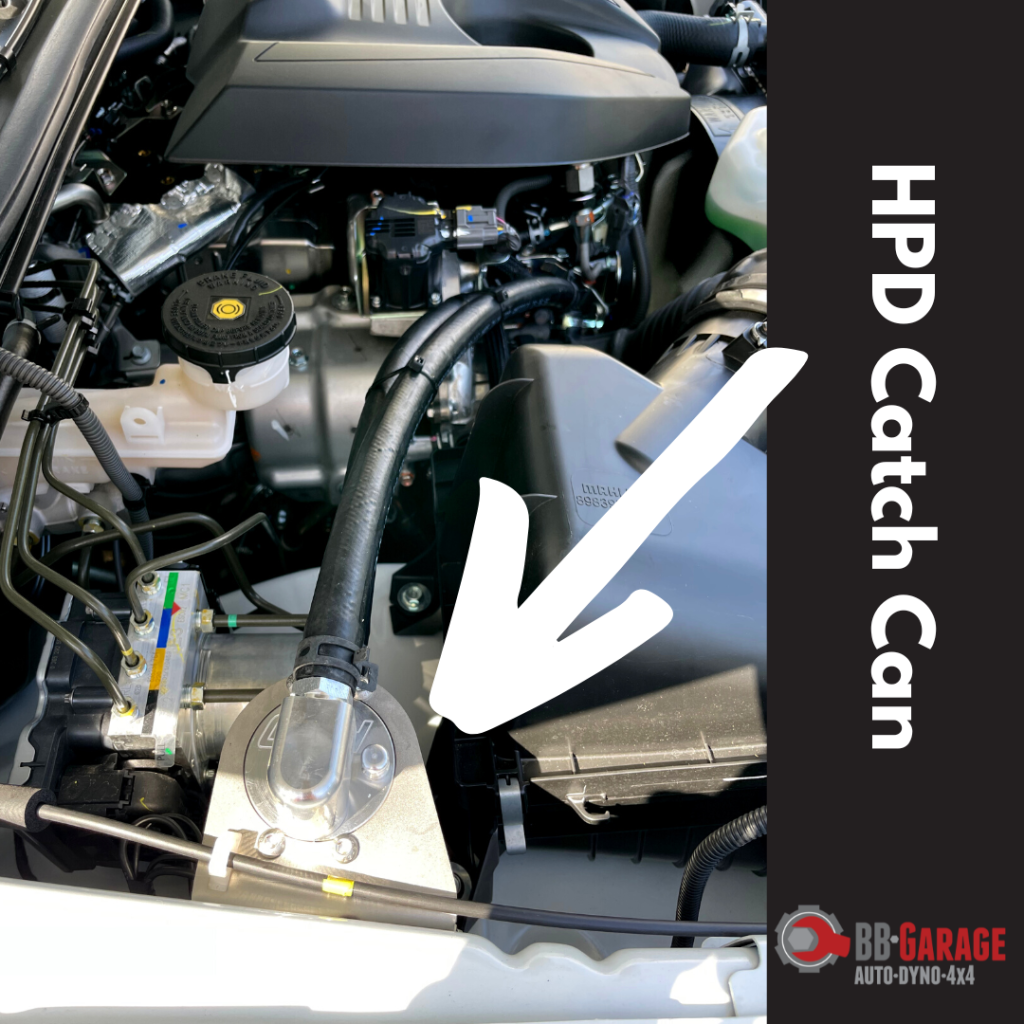 Quality HPD Catch Cans Installation
Catch cans are a simple and effective modification that we recommend early on in the process in upgrading your 4WD. There are many different brands on the market and not all are created equal. Poorer quality catch cans can look cheap, fit poorly, require extra maintenance and some do not meet Australian standards.
The HPD Catch Can is a product that we highly recommend for Diesel Engines; they are a great Australian made product that can help reduce the amount of exhaust gases re-entering the engine. HPD is Australia's leading manufacturer of performance upgrade products for turbo-diesel vehicles. Precision-made in Australia from billet aluminium, HPD catch can kits come complete with laser-cut brackets, silicon hoses and all clamps and fasteners needed to complete a factory-look fitment. The oil reservoir has a dipstick for easy monitoring of the oil level, and unscrews for easy emptying when required.
Why are Catch Cans important?
Due to stricter emissions regulations, diesel engines have an EGR (Exhaust Gas Recirculation valve), this diverts sooty exhaust gases back into the engine to be burned again. The engine breather pipe sends air from inside the crankcase into the intake as well. The fine oil mist in this air combines with the soot from EGR to form a sticky deposit that builds up to the point that it affects the breathing of the engine, clogs EGR valves and jams turbo actuator flaps. As such, build-up can occur very quickly which then requires inlet manifold cleans.
The HPD Catch Can is an oil/air separator that is mounted between the breather and the intake; it has four fine stainless steel mesh filters that trap the fine vapour before it gets to the intake. This reduces the amount of build up in the inlet manifold. The mesh filters are high quality and need no maintenance or replacements.
We highly recommend fitting a Catch Can to diesel engines as soon as possible (when the car is new is ideal) or especially after having an inlet manifold clean to lengthen time needed between inlet cleans. Our qualified mechanics will check and empty the Catch Can at all regular service intervals; no other maintenance is generally required.
The HPD catch can does not vent to the atmosphere, so it is compliant with Australian Design Rules. Please note, catch cans with a pressure relief valve do not meet ADRs and are not legal to use on the road; this is why we only recommend and fit HPD Catch Cans.
Thank you to BB Garage and staff thank you for a excellent job on my Isuzu D max. I got a 2" lift kit on the front and rear shocks and wheel alignment a ECU=shop ultra boost' and a Hpd billet catch can. Very neat and tidy with their work excellent customer service very helpful thank you guys.