4WD Dyno Diagnostics & Tuning
---
Ipswich's most trusted 4WD Dyno Diagnostics, Remapping and Pump Tuning
As one of Ipswich's best 4WD performance workshops, we provide quality dyno tuning advice and services. With an in-house 4WD Dyno, we're able to test your 4WD in both 2WD and 4WD modes if required. All our tuning is done in-house by a Tuning Specialist and every tuned vehicle receives a dyno print out with measurable results!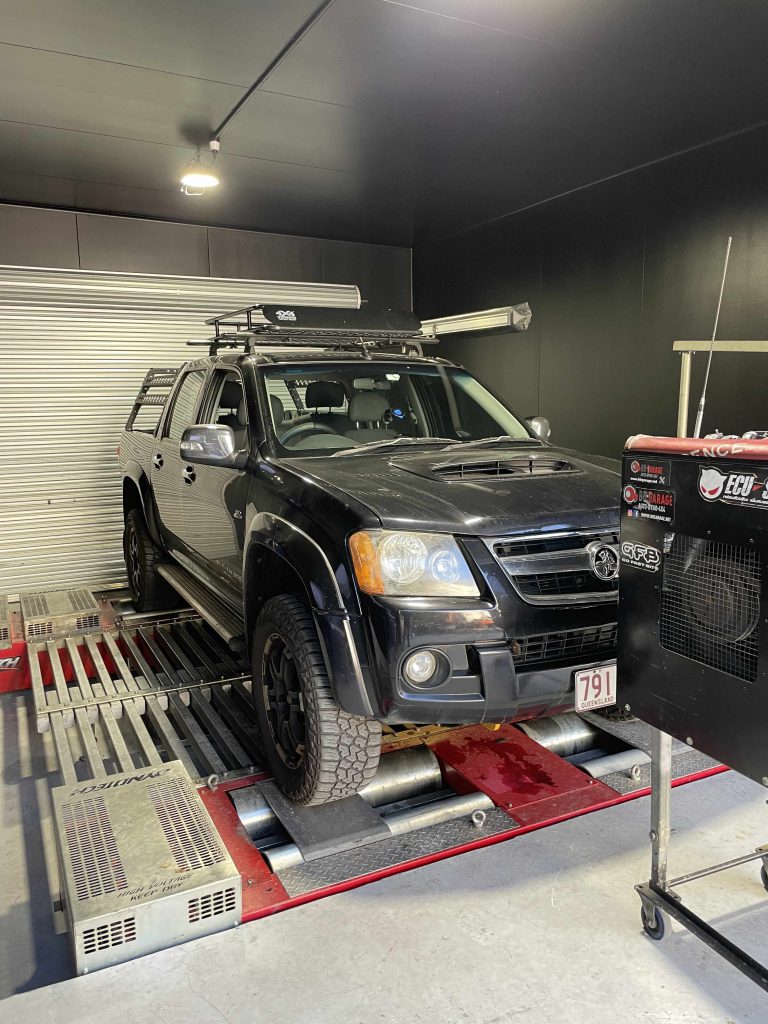 DYNO TUNING & ECU REMAPPING
ECU remapping (sometimes called ECU tuning) is a full re-configuration of your 4WD's ecu to achieve better power, torque or fuel economy. All our tunes are custom and done in-house; as such our tunes are customised to exactly what you want to achieve with your 4WD. BB Garage is home to a 4WD Dyno, this allows us to to test 4WDs in both 2WD and 4WD modes.
Pump Tuning is for diesel vehicles that are fitted with a mechanical injector pump; this is usually for older 4WDs (usually pre-2006). Pump tuning is achieved by manually adjusting settings of the injector pump to achieve better power output.
LEARN MORE
ECU=SHOP PERFORMANCE
As a registered dealer of ECU=SHOP products, we're able to provide quality advice on different products as well as sell and install these products. ECU=SHOP products are considered 'plug and play', this means that they are a module that is attached to your vehicle to provide real results for your 4WD. With so many options to choose, it can be helpful to discuss options with our Tuning Specialist to ensure you get the right product for your goals.
LEARN MORE

DYNO DIAGNOSTICS
Is your 4WD not driving as well as it should? Are you having issues with your 4WD going into Limp Mode or power Surge issues? Our Dyno allows us to provide accurate diagnostic solutions for 4WDs with power issues. Depending on the issue, we will use a variety of diagnostic tests and tools to accurately diagnose the issue. As a full mechanical workshop, we're well equipped to diagnose most issues that you may experience with your 4WD.
As diagnostics can be quite complicated, we recommend calling our service team and discussing your issue with them to help identify the best way to get started with the diagnostic process.
Call Now
"The BB Garage Crew have helped me along the way with building up my 2018 Hilix. They've done a new NPC heavy duty clutch and ECU ultra boost and dyno tune and, more recently, have done new adjustable upper control arms, a full Pedder's ceramic brake kit and a service.
These guys are all about customer service and gave my Hilux the royal treatment. Excellent management of scheduling and online invoicing as well as throwing in some additional roadside assist cover in the next 6 months. Obviously this company backs its work to out that offer out there! Legends and I definitely think I've found a new home to help me take my 4wd to the next level!"